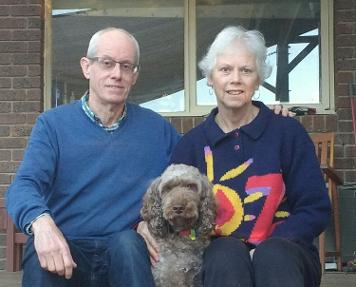 We are ordinary people, of various backgrounds and experiences, who seek to connect with God and each other. We desire to grow as followers of Jesus Christ, to support one another along the way, and serve in our daily lives.
This reflects the emphasis placed by Jesus when he gave these commands:
1. "Love one another as I have loved you". This means that our life together as a church community is to reflect this command. As Jesus loved us by laying down his life, so he challenges us to be sacrificial in our relationships with others.
2. "Go and make disciples of all nations". Known as 'the great commission', this encourages us to be outward looking, to attend to our own spiritual growth as disciples, and to bear witness to the love of Christ before others.
As a church in Somerville/Tyabb, we aim to live these out in practice, even if we do this far from perfectly!
---
Our Leadership
Our Vicar is Rev Phil Hurwood. He and his wife Helen have been with us since August 2017 (picture above), and are providing leadership for us as we live our life together. Phil has been in church ministry for many years, in country areas before St Luke's Frankston, and now in Somerville. He enjoys walking with Helen and their dog Rufus, reading and engaging with the issues of the day, and following the Melbourne Demons in the AFL.
We also have a Parish Council which meets monthly to give guidance to our daily running and future directions. People give freewill tithes and offerings to enable us to serve God and cover the expenses we have.
We love to encourage all people to explore the calling they have from God, and to help them live that out with joy and thankfulness.