Learning to Love like Jesus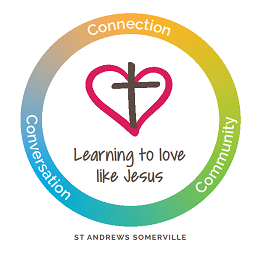 This is our focus through 2020.
How might we live with the same manner of love which Jesus displayed? How might we practically serve?
We would love you to be part of it. We appreciate the unique gifts which each one brings.
These are the goals we have launched:
Goals for 2019/20:
1. To be committed to learning to love like Jesus through all aspects of life. To achieve this we will continue to foster the use of our Bible 'Passage a Day', encourage people in small groups and prayer, and in corporate worship in our congregations.                                                     
2. Build the process of Connection >> Conversation >> Community.

To build a community which nourishes friendships, mutual support and care for one another. Connecting through weekly bulletin, website and facebook, and through the way we conduct ourselves in our programs and activities.
3. To establish and operate an op shop as a focus for community life and engagement.

We aim to launch the ministry in coming months, with the establishment of a leadership team now in place. This will involve further refurbishment of facilities. It also means developing all our rear area, including garden and the 'carriage' room.  
4. To run regular Alpha series as a way for people to engage with questions of faith and meet others.

Phil will prioritise working with a team to make this possible.  This aims to provide an on-going 'way-in' for people to discover the love of God which He seeks to make available to all.
5. To further enhance out facilities for the benefit of users and for our local mission.

We have made a strong start to this through our Building the Future Fund. We will continue to maintain and improve our facilities.                     Our Building the Future Fund will continue with this in mind.
 6. To further build our income to meet expenses and enhance prospects for future growth.

We will encourage one another in our giving to God. Our weekly giving goal last year, of $1,000 per week, has been almost achieved.                Our weekly giving goal for the year to come is $1,150.  Our long-term aim is to be able to support a full-time vicar by 2022/23.
 7. Special Project. We play our part in the wider global mission of God's church. We support two mission partners, Bethany Vaughan in    Cambodia, and Derek & Rosemary Snibson in the Northern Territory, through the Church Missionary Society (CMS).                                            Our goal is to increase this support by 10%.
What we have achieved over past year:
Growth in our Sunday congregations
Increased contacts through mainly music
Community meals
Growing small groups for Bible study and support
Greater interest and participation in monthly market
Growing giving and financial base
Repairs after termite damage in foyer plus comprehensive on-going program for protection of facilities
Being granted permit to proceed with op shop ministry
Bread pick-up and distribution ministry
Garden group and garden beds at rear
Many maintenance and improvement tasks
Commencement of regular Alpha series.